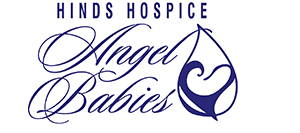 Who We Are:
As part of the Hinds Hospice Center for Grief and Healing, the mission of the Angel Babies program is to comfort, support and uphold the dignity of families whose babies have a life-limiting condition or whose babies have died.

A terminal diagnosis or death of a baby is one of the most devastating experiences a family can go through.
What We Do:
Angel Babies offers a perinatal hospice program designed for families whose baby has received a terminal diagnosis, offering support during pregnancy and providing ideas for creating loving memories. Hospice services are available for babies who survive after birth and are in need of specialized pediatric care. This care can be provided in the baby's home or in our inpatient facility, known as the Hinds Hospice Home. This program assists families as they welcome and enjoy their baby and when necessary, say good-bye.

Liam's Dad shared
"Our hearts were full of hope and joy at the anticipated arrival of our son Liam, and it is difficult to express how our world shattered when we learned he would not survive. In our darkest hours as a family, I made a call to Angel Babies not knowing what to expect and unsure if any of our consuming questions could be answered. That call changed everything…My wife and I met with a compassionate and caring grief counselor who helped us put the pieces together. We were given support and resources that made all the difference. Liam could not stay with us, but the quality of our time with him was vastly improved because of the essential role Angel Babies played during that defining time for us as a family and for that we will be forever grateful."
The sudden death of a baby in pregnancy or infancy is equally devastating. Angel Babies staff responds to local hospital emergency rooms and labor and delivery rooms to support families who are going through this experience. As we provide resources and support at such an overwhelming time, we assure our families that we will be available for continued support.

People are not taught how to deal with the death of a baby. Friends and family often don't know what to say. Most people expect the parents, especially the father, to return to work within a few days and be "back to normal" within a matter of months, but the death of a baby changes parents forever, and results in a uniquely deep and personal grieving process. The bereavement services provide families with helpful information and support during their journey of grief and mourning.

Katelyn's Mom shared
"In time, everyone seemed to move on and not mention our baby anymore. I knew that with Angel Babies I always have a safe place to remember and talk about my baby."
Services include:
Support groups for parents, children and others
Grief counseling for individuals, couples and families
Grief materials, resources and lending library in both English and Spanish
Memorial and special events for parents and families
Hospital response at time of delivery or death
The Angel Babies staff is also very involved in outreach efforts and community education. We partner with Fresno County Public Health to provide support to ethnically diverse populations and explore barriers to care and support. Our staff has presented at the local, state and national level about the program, services and interventions in hopes that others will be inspired and encouraged to develop similar programs in their community. Our staff will also be presenting at the upcoming Asia International Palliative Care conference. Upon learning of the amazing opportunity to partner with Aetna and share about our organization, our initial excitement was around the possibility of others hearing our testimony and being inspired to begin a program in their community so that no parent or family will have to face this journey alone.
Our Story:
Established in 1981 by Nancy Hinds, Hinds Hospice serves the Fresno, Madera and Merced County areas with numerous hospice care services for patients of all ages and afflictions. Hinds Hospice maintains the only inpatient Hospice Home between Bakersfield and Modesto and visits anywhere between 160-180 patients in their own homes.

Angel Babies was founded in 2001 as a part of the Hinds Hospice Center for Grief and Healing to further support the community needs. This includes a Pediatric Hospice Program for children with life-limiting conditions, where even our littlest patients can be cared for in our inpatient facility or in their own homes. To date, the Angel Babies program has helped more than 3,100 families welcome, grieve and remember their precious babies gone too soon.
NEXT >