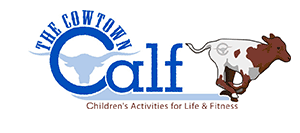 Who We Are:
The C.A.L.F. Program (Children's Activities for Life and Fitness) is a grassroots youth running initiative created by the Cowtown Marathon. C.A.L.F. started in 2006 as on offshoot of a running program established by the marathon in 1986. Recognizing the upward trend in childhood obesity rates, the Cowtown Marathon organizers felt an urgent need to act. C.A.L.F. educates children on the importance of an active lifestyle by promoting physical fitness and good nutrition.

The belief of the CALF Program is a fit active child will adopt lifelong healthy habits. To that end, the program provides funding and training resources to area schools and community centers to support our healthy mission. The CALF program empowers the children to take home the lessons learned.
What We Do:
The Cowtown staff and volunteers contact over 400 area schools and community centers inviting them to take part in The CALF Program. Coaches and educators then attend an informational meeting to receive program details, training materials and schedule campus visits. The staff and qualified volunteers work directly with the children on stretching, warm up/cool down, and running technique. Kids are also taught to take their resting and active heart rate to teach them how exercise can affect their cardiovascular system. To track their progress, participants are given pedometers and training logs with a sticker reward system. Children log the miles they run/walk and note their heart rate for each exercise session. These tools provide visual evidence of their accomplishment and help show them exercise is fun. Proper nutrition and healthy eating habits are also taught to help them understand the effect proper nutrition has in establishing lifelong health. The children are encouraged to apply what they have learned by participating in the fall kick-off 5K and 1 Mile Cowtown CALF Run and in the winter at The Cowtown Kids 5K run.
Our Story:
The Cowtown exists to empower healthy living. The decision was made to start a children's running program to encourage local youth to take part in The Cowtown running events. In 2006, the program was expanded and officially named Children's Activities for Life and Fitness (CALF). CALF is supported entirely by The Cowtown Marathon running events and generous support of the local fitness community. The C.A.L.F. Program started small by helping to establish running clubs in local schools. The activity is accessible to everyone and teaches valuable lessons about the body and the mind. To assist children from low-income households, financial grants are provided to offset the cost of entering the races. Organizers have found that many of the children requesting financial assistance can not afford proper running shoes. In the first year C.ALF distributed just over 100 pairs of shoes, that number has grown to over 2,100 in 2013. Steady growth has allowed staff and volunteers to gain the knowledge to create a curriculum with a strong foundation capable of achieving the most positive outcomes.

The CALF program has continued a steady march forward. Beginning in 2013, CALF was able to provide financial assistance for entry fees into other community races selected by The Cowtown. We feel this will keep the children engaged all year long. The CALF is proud of its role as a leader in promoting active healthy lives to children in North Central Texas.
NEXT >