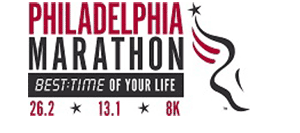 Who We Are:
The Philadelphia Marathon ranks among the nation's top-10 largest marathons. The Marathon brings together nearly 100,000 runners, spectators and volunteers annually. The event truly is a unique spectacle serving as Philadelphia's heartbeat for one incredible weekend. The Marathon along with the Half Marathon and Rothman Institute 8K attracts young adults and seniors, from casual novice marathoners to elite running veterans, as well as everyone in between.

The 20th Anniversary of the Philadelphia Marathon Weekend runs this year from Nov. 15 through Nov. 17 which showcases the evolution from a small, local race into a top-10 marathon nationally. The event welcomes runners from all 50 states and 40 countries throughout Philadelphia Marathon Weekend.

The 2013 theme "20 Years, for the Love of Running"™ symbolizes the continued unique experience offered by the Philadelphia Marathon.
What We Do:
At more than 30,000 runners, 60,000 spectators and 3,000 volunteers, the event has emerged as more than just an athletic race, but a platform for many impactful causes.

The race unites Philadelphia's businesses, volunteers, government, hotels, families, tourists and citizens in a holistic citywide experience.

The Marathon's primary objectives – in addition to providing runners with an unforgettable athletic experience – includes investing in the lives of children, promoting healthy living, mobilizing all corners of the community through civic engagement opportunities, creating economic opportunity for Philadelphia, creating sustainability initiatives to become one of the most eco-friendly marathons nationally and creating Running's Best Host City™.

The Philadelphia Marathon supports a robust charity program with partners supporting a mix of local, national and international initiatives. Students Run Philly Style, an original Marathon charity partner, mentors Philadelphia's youth by using running as a teaching vehicle for adolescents to develop positive and healthy lifestyles. The Philadelphia Marathon helps its charity partners raise money to fight disease, develop youth and promote healthy lifestyles among other life-empowering objectives. Additionally the Philadelphia Marathon creates sustainability measures that transform the event into one of the premier eco-friendly races nationally.

In 2012 Philadelphia achieved an 87-percent diversion of waste of landfills for the event. The milestone will aid race organizers' ambitious goal to gain the Council for Responsible Sport's highly-desired certification for environmentally-responsible sporting events. Many new sustainability objectives were achieved including:
Recycling 700 lbs of used Heatsheets®, which are made of a metalized low-density polyethylene (LDPE) and distributed to warm-up runners at the finish line.
Collecting 9,840 lbs of discarded outer layers of warm-up clothing and donating them to the Bethesda Project, a local nonprofit organization assisting the homeless population.
Recycling over 450 excess runners' bags and recycling their contents.
Composting more than 600,000 cups used during the races to drink water and replacement fluids.
Melting down and recycling over 100 pounds of excess runners' medals.
The successful initiatives align with the goals presented in Greenworks Philadelphia – Mayor Nutter and the City of Philadelphia's sustainability plan which focuses on over 160 initiatives. Energy, environment, equity, economy and engagement are target areas in this comprehensive plan.

The Philadelphia Marathon reaches many corners while remaining true to one of its founding goals of promoting health and fitness.
Our Story:
The roots of the current Philadelphia Marathon can be traced to 1954, the race's unofficial inaugural year. These efforts were largely independent ventures and the marathons went by different names such as the Greater Philadelphia Independence Marathon (1981-82) and the Fairmount Park Marathon (1988-89).

Two decades ago, the City of Philadelphia and a group of dedicated runners and physicians at the Rothman Institute in Philadelphia established the Philadelphia Marathon as it's known today.

In 1994 the race began modestly with about 1,100 runners. In 2012, the Philadelphia Marathon set a new registration record, signing-up more than 30,000 race competitors. Now celebrating its 20th year, the Philadelphia Marathon has emerged as one of the largest and most sustainable marathons nationally.
NEXT >