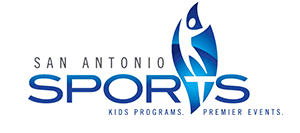 Who We Are:
For 29 years, San Antonio Sports (SAS) has put our city on the global stage. From NCAA Championships to the Rock 'n' Roll San Antonio Marathon, the premier events we have hosted have delivered more than $446 million for our local economy.

But we are not just about big games. We are a nonprofit organization that works every day to transform our community through the power of sport. San Antonio Sports recognizes the link between healthy bodies and healthy minds and works every day to provide sports and fitness programs that inspire children and their families to live active, healthy lives.
What We Do:
We are in 290 local elementary schools with our ING Kids Rock Marathon training program and Go!Kids Challenge™. San Antonio Sports i play! Afterschool Program introduces U.I.L. sport fundamentals after school to inner-city children by providing coaching, equipment, and nutrition and character-building lessons. Our Fit Family Challenge expands our kids' fitness efforts with a fun, incentivized twelve-week, county-wide program for the whole family. Other major sporting events pursued and hosted by San Antonio Sports include NCAA and other premier national and international amateur championships, All Can Ski, the largest waterskiing clinic for people with physical disabilities in the United States, the Valor Games, and many others. San Antonio Sports has also taken a leadership role in the advocating for new sports and recreational facilities, such as the Alamodome and the world-class natatorium at Palo Alto College, and helped with the successful 2007 city and 2008 county bond campaigns to build new sports fields and facilities.
Our Story:
Started in 2010, the San Antonio Sports Fit Family Challenge (FFC) is a community-based collaborative to combat obesity by providing a free, family-friendly, incentive-based program for San Antonio families with children under 18, focusing on those living in 10 zip codes identified as at risk for ongoing health problems. Fit Family Challenge is a 12-week wellness program that takes place each summer (May-August) and provides free resources to access health and wellness information through free, family-friendly fitness/nutrition events with incentives for families to encourage participation in and sustain an active healthy lifestyle. SAS coordinates services with seven local school districts, the City of San Antonio, and Bexar County Health Collaborative to provide access to fitness and nutrition events in neighborhood schools, and implement family-friendly fitness/nutrition events in city parks during the summer. Families are encouraged to register online or at any Fit Family Challenge event, track their family's daily physical activity and healthy eating progress online or on a printed Fit Family tracking log, bring the tracking log, stamped from at least three Fit Family Challenge events, to a Big Event. If the family meets these requirements, they are eligible to win an incentive of $1000. Funds awarded through Aetna Voices of Health will support the 2014 FFC school-based initiatives, marketing and outreach efforts, as well as Saturday community fitness events.
NEXT >